Every year, people make New Year's resolutions that motivate them to change, learn something new or, on the contrary, unlearn. We don't necessarily call it a resolution. Whatever the plan with the goal you wish to achieve in the given year, it is important to specify it and focus on it.
Together, we will look at how to correctly set educational resolutions. As an example, we will discuss the goal of learning a foreign language.
Like all goals, educational resolutions must be:
Specific
Learning a foreign language is a very general goal. In our case, we will focus on English because we need it for work and travel. We would like to improve mainly in speaking and writing e-mails with colleagues from abroad. In order to negotiate well, we need to reach level B1. We should know exactly what we want to achieve so that we don't go down the wrong path.
Measurable
In order to be able to evaluate over time how we are getting closer to the goal, we need to be able to measure progress. In our case, we can evaluate correctness, difficulty, vocabulary, pronunciation, grammar and other elements of written and spoken English. Measuring progress gives us motivation and alerts us when we need to change the way we learn.
Achievable
Evaluate how much time you can devote to learning and what level you are able to achieve in a year. If you set an unrealistic goal, you will soon lose motivation and quit.
Realistic
On the other hand, the goal should be realistic and sufficiently motivating. If you set a goal to learn something that you already almost know, you will also lose motivation. It doesn't hurt to set your goal slightly higher than you think you can handle. You will be motivated all the time and if you do not meet the goal, you can still improve more than with a weak goal.
Timely
The goal should also be time-bound. In the case of New Year's resolutions, we expect that at the end of the year you will evaluate how you managed to achieve the goal.
You may have thought more than once that it will be difficult to set the right goal for yourself in an area that you do not yet understand. You are of course right. If you have the opportunity to set goals with someone who is an expert in the industry, then take advantage of it.
Last but not least, in addition to setting the goal correctly, it is crucial to regularly work on the fulfillment of the resolution. Use your motivation and create a routine in the first month. If you exercise regularly throughout the month, it will be much easier for you to continue throughout the year. It is also true that things go better in two. Work on resolutions with a friend, coach or family. You will support and motivate each other and maybe you will achieve something that you did not even plan. And that's why New Year's resolutions make sense!
What are your New Year's resolutions? Do you have at least one goal related to education?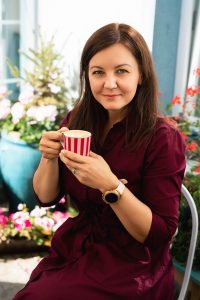 Author: Anna Beňadiková, Operations Manager at EDU Trainings